There are some pretty amazing camera drones that came on the market in the last year. If you're in the market to buy, you'll want to take a nice, hard look at the following drones because we've found overall – they provide a lot of what pilots are looking for whether you're a newbie or an expert. So what is the best drone to buy in 2016? Keep reading!
Regardless of whether you are an independent filmmaker looking to take your film-making to the next level with the use of drone videography, or merely love film-making as a hobby and want to really capture some amazing footage to share with family and friends, a top-of-the-line camera drone is definitely something you want to invest in.
The best drone to buy: weigh your talents
The list we will be providing may not be the best for a novice drone buyer, however we will make note of which brands are newbie-friendly. High-end drones can be quite expensive. Before going out and purchasing all the parts to build one or simply purchasing a high-end unit to begin with, you'll want to ensure you have the knowledge and talents to fly one! It may be best to start of with less expensive brand if drone flying is not something you are experienced in and want to try your hand at before upgrading. Believe us, the following drones are suitable for a wide-range of pilots and talent levels.
Here is the list of drones we will be discussing:
DJI Phantom Inspire 1
Parrot Bebop
DJI Phantom 4
3DR Solo Smart Drone
Blade Chroma 4
1. Best drone to buy: DJI Phantom Inspire 1
If what you want is the best camera drone, well, you have found it. The DJI Phantom Inspire 1 is what you are looking for. It´s 4K video capabilities reach up to 30 FPS, the 180p video reaches up to 60 FPS. The gimbal-mounted camera provides 12-megapixel photos. The professional aerial footage you have only dreamed of shooting can be caught with the Inspire 1.
This marvel of technology drone is outstanding, it's design is aerodynamic allowing the arms (carbon fiber) to – at the flip of a switch – move out of the camera's way even when flying. One of the smartest drones you could ever purchase, this DJI feature informs you of the amount of power remaining making sure that your drone will not be left powerless before completing it's trip. The flight time is eighteen minutes max, once you battery begins to run low or the handset and drone lose connection, the top of the line on-board GPS-positioning algorithms will switch over into auto-pilot assisting the drone in its flight back to the launch spot.
This is just the beginning, the DJI Inspire 1 also includes a Vision Positioning System. This system employs not only the camera, but also the sonar sensors to detect its location when hovering, they will automatically lift or lower the legs depending on whether it needs to land or take off.
Priced at over $4000 in most cases, the DJI Inspire 1 is quite the investment – but prices have dropped. That being said, everything you need will be included even a second battery, replacement props, two controllers, a micro SD card (64GB) and for easy transport; a Pelican case.
Get your hands on one now



2. Best drone to buy: Parrot Bebop
In the world of drones, you can count on the Parrot brand. The Parrot Bebop is an ideal entry level camera drone for those who are just starting out.
The drone's body is built around a fisheye camera which is 14 megapixels, a 180 degree range of video which is 1080p can be captured at 30FPS. The one thing you will not find however is the horizon distortion that other wide angle action cameras provide. There are also smart safety features which are built in that will provide the drone with protection, an emergency mode is included which will help the drone safely land as well as props that will instantly stop spinning to avoid damage if a collision has been detected.
The Parrot Bebop is controlled with the Freeflight 3 app, this app is available for iOS and Android devices. A one-touch return home is an included function, this will fly the drone safely back to its launch point where it will, until recovered, over six feet off the ground. If you are a die hard fan of Parrot drones then purchasing the Parrot Skycontroller may be of interest to you. This will broaden your Bebop drone's range and allow you to perform highly advanced tricks, most importantly the controls it offers are better that the touchscreen controls.
An account on the Parrot Cloud can be set up as a way of backing up your videos and photos, you can also share your footage with the Parrot community which now boasts over 100,000 pilots and growing. Are you ready to take wind with these novice friendly features? The Parrot Bebop is a better fit for the budget and still provides the stable, high quality video you desire. The battery will provide you with twenty two minutes of flight time.
Get your hands on one now



3. Best drone to buy: DJI Phantom 4
Seeing another DJI drone on this list should not be surprising. Drone enthusiast have always favored the DJI Phantom line, if what you want is a well designed, sleek drone camera, well the Phantom 4 is what you seek.
Much of the same technology that is featured in the Inspire 1 is also found in the Phantom 4. It includes a 4K camera which is gimbal-mounted and shoots at 30FPS.
The stable and precise joy of hovering can be enjoyed thanks to its Vision Positioning system. So let's say that you let go of your joystick controls, the Phantom 4 will come to halt and hover over one spot regardless of whether the wind increases. You can easily set your drone in follow mode where it is able to record a subject in motion with the use of ActiveTrack mode, all the while no trees or objects will be collided with due to its Obstacle Sensing System which is built in.
The overall design and look of the drone is something else. This all in one drone is absolutely one of the sleekest drones available in this market, whenever you take it out to fly it is guaranteed to get a lot of attention. It is a bit easier on the wallet being as it is around half the price of the Inspire 1.
Get your hands on one now



4. Best drone to buy: 3DR Solo Smart Drone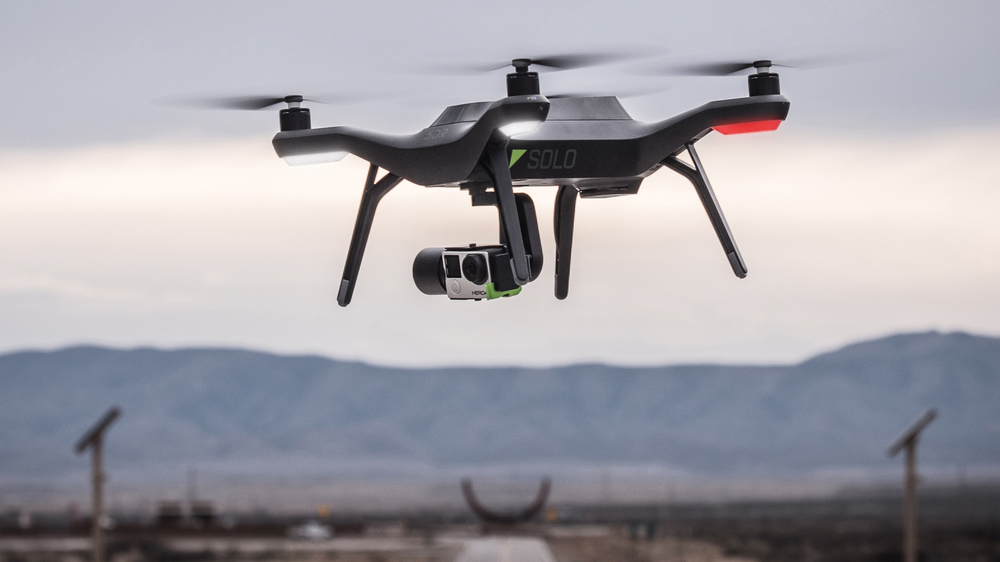 If an investment has already been made towards a GoPro camera that you would like to use with your drone then the best vessel for you aerial GoPro shooting would be the 3DR Solo Smart Drone.
This all-in-one drone features a highly capable controller which includes a mount for your smartphone, the shoulders include convenient camera controls as well as an on screen display of flight time. If the battery is low a vibrate function will let you know. You will be able to set up your epic shots without being concerned about keeping your drone in the air, all thanks to the on-board stabilization.
If the optimal gimbal is purchased for your GoPro, Smart Shots will be able to be executed, these are movements such as Follow, Orbit and Cable cam which are preprogrammed and allow for professional, cinematic shots to be taken.
Important safety features are also included in the 3DR Solo, this include FAA complainant maximum altitude of 400 feet, it also includes a "pause" button that will make the drone instantly hover in one spot if you feel as if control is being lost.
Get your hands on one now



5. Best drone to buy: Blade Chroma 4K/GoPro
Another solid choice is the Blade Chroma 4K – which is available in four options, all of which are prepared to fly out of the box.
There are two more expensive versions which feature a 4K camera, a controller which includes a screen for video recording purposes as well as for logging valuable flight information like, speed, altitude and how much flight time remains. You can upgrade and receive an extra battery and a case to make carrying your drone around much easier.
There are also the least expensive versions, this permit the mounting of your own GoPro, we recommend Hero4, and a 3-axis gimbal option. The drone featured in these versions is the same as the 4K camera version, the exception is the standard wireless transmitter, this means that video from your GoPro must be streamed to your smartphone.
Regardless of the drone you choose to pick, they all include Smart Mode, making it easier for beginners to learn the basics and AP mode for pilots who are more advanced and want the most control they can possibly get over their drones. Amazing features such as Tracking Mode and Follow Me Mode which permit you to set the distance and altitude settings ahead of time and place your focus solely on capturing those amazing shots and footage.
Considering all that they include, these packages are epic and at quite a reasonable price.
Get your hands on one now



What's your favorite drone? We want to hear about it. Leave a comment below and enjoy your new drone!