Behold the wonderful world of drone racing. These drone racing pics will have you wondering what in the world you're missing. What is drone racing? It's a sport where pilots build and fly as fast as possible. The pilot will build his or her drone by carefully modifying it to fly face-ripping fast. Then they'll take said drone and enter in contest to where they fly the drone through a course. The fast drone wins (without crashing, of course).
If you're talking about FPV or the First Person View, then the pilot wears a pair of goggles with screens inside to actually make it feel like they are in the cockpit. So if you're wondering why some of these images below are a bit strange (like guys staring off into the sky and sitting by themselves, well, then you understand that bit).
Drone racing is becoming a lot more mainstream than say, a year ago. Parts for drones are becoming cheaper and easier to access so pilots are creating some pretty amazing drones to showcase at contests. And pilots can make some serious dough for winning these races as well. More on that later, but we introduce you to 23 drone racing pics (and videos) that give you a true taste of life in the fast lane.
1. Crash and burn
It's one thing to crash during a drone race. It's another to get a wicked shot of the drone crashing beautifully – that's still in focus! Noice!
2. Hello, Clarice…
This pilot admits he's a "pincher" (note fingers are on the toggles). No shame in his game, he's been doing it for 25 years he says!
3. The future of sports and nightlife and robotics
Here's a pretty great snap from a contest in San Francisco. Colors galore!
4. Clear for takeoff
Drones are stacking up and taking off. Pilots are ready to take on the course.
5. GoPro has seen better days
This pilot says some days he feels badly for his cameras. This is no exception. The good news is the GoPro is fine and working as intended. The outer lens? Not so much.
6. Gear for days
This pilot anxiously wonders "who's ready to burn some packs this weekend!?"
7. The matrix is strong with this one
This is Oli, a teammate of the photographer. Oli is in the matrix. 
8. Tempe's temptation
FPV pilot @Tinywhoop (aka Jesse Perkins) got some sick coverage of this past weekend's IDRA North American Cup West Qualifiers! Perkins finished in the top 16 and some of his teammates made it into the top 10! Nice work.
9. Small but mighty
The pilot says 'the amazing speed and aerobatics of our FPV drones is all thanks to these little beauties, who can transfer all their 1300mAh energy in less than 5 minutes.'
10. Saved by the tree
This pilot said it was a crash landing, but everything survived. Thanks, tree. 
11. Super spazz
This pilot is proud of his drone's new frame, new motors, better battery. This thing screams in the sky and flies insane, he says.
12. Safety first, right?
Take good care of the things you love. Where are you flying today?
13. Mean-looking racing drone
This looks like the military's Apache helicopter's cousin. 
14. Drop it like its hawt
Brand new Revo lipo batter that was sliced by a prop. Whoops.
15. Gone POSTal
There is no respect for the course posts.
16. Buzzer to the rescue
Sometimes you have a bit of trouble on the course. But things look up if you have a friend like Buzzer.
17. Inside Area 51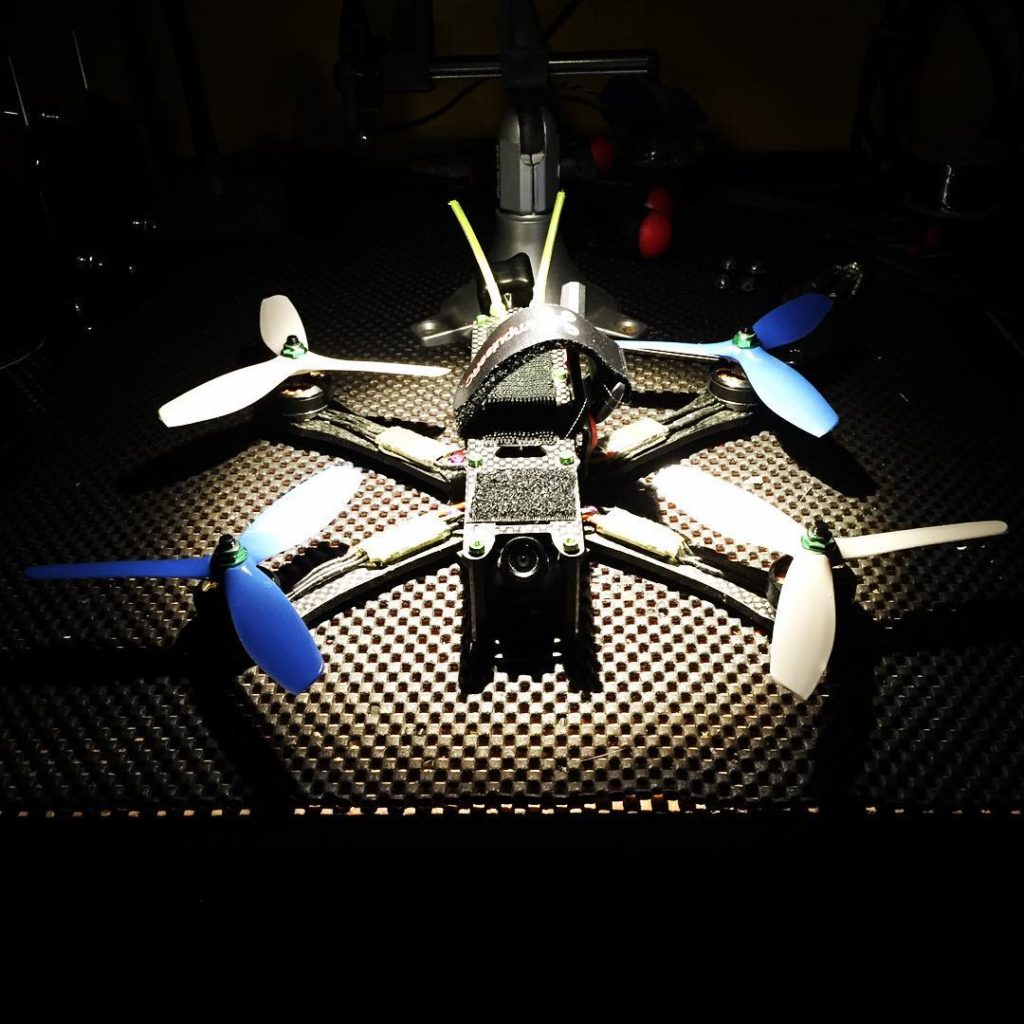 This is out of Star Wars or Area 51 or some ish. Wicked.
18. Saturday flying
The team is ready for a little Saturday extravaganza.
19. The Thinker
This pilot is 'Helping to spread the gospel of FPV'.
20. Think Different-like
This pilot says it's a very special kind of relationship. We'll just agree.
21. Blast off!
Nothing like blowing through the stadium in Miami. Here is an up close and wicked look at life in the fast lane from Miami, Florida.
Do you have some great drone racing pics you want to show off?
We'd love to see them. Just hashtag us on social media with #FullDrone or @FullDrone or shoot us an email with the images and we'll take a look. Until then, happy flying and good luck at the races!