We're excited to finally unbox the new DJI Phantom 2 Vision + (Plus). Here is a gallery of the full contents of the box and all that comes shipped with the Phantom 2 Vision+. I've had a few test flights already and will be posting them here very soon. Please check back for the latest! Here is a Phantom 2 Vision Plus unboxing gallery!
If you're looking to buy the new Phantom 2 Vision + , I recommend Luckitron from Amazon. They shipped this out and I emailed them because I needed it before my trip. They upgraded the shipping for free and had it a day later. Amazing delivery. Click here to go to the product page of their store.
Here's a wide look at what's all included in the box.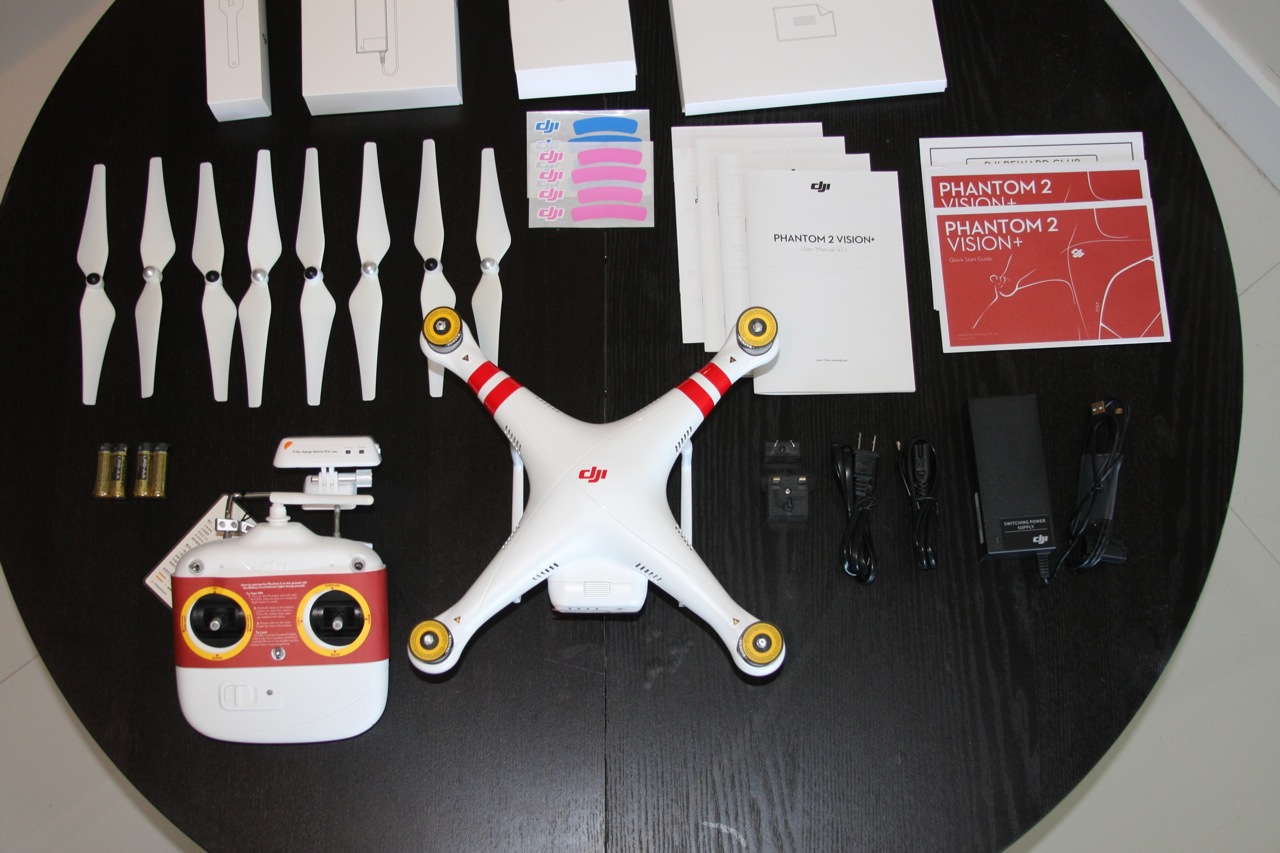 An aerial look at all that's included in the box during the unboxing Phantom 2 Vision Plus.
The Phantom 2 Vision Plus is a very sleek drone and comes complete with two sets of props, a charger, stickers, instructions, a wrench, batteries, a controller and an foreign adapter plug.
Pink, blue and red stickers allow you to customize your new Phantom 2 Vision Plus to your liking.
A hard card is included on the controller to give you indications of what light sequences you're seeing on the drone. Great to know when something isn't working quite right!
The new camera and gimbal is a huge improvement from the previous Phantom 2 model. Huge.
The Phantom 2 Vision Plus comes with plenty of warnings to ensure you're not setting it up incorrectly.
The Quick Start Guides are very helpful. They guide you through preparing for your first flight and getting ready for subsequent updates and flights.
The controller comes wrapped in an instructional paper cover that helps you understand directions and how your drone will fly once you're live!
I'm glad DJI sent two sets of props because I had cracked up a few on the first few flights. It's nice to have a quick backup so you can keep flying.
The Future of Possible!
Another peek of the new axis gimbal and camera during the unboxing of the Phantom 2 Vision Plus drone.
Another angle of the Phantom 2 Vision Plus.
All elements of the device are easy to charge and come with a charging cord.
Sleek and clean. And a powerful drone that captures amazing video!
With this Phantom 2 Vision Plus unboxing, you can see there's a lot that comes in the box. But there's very little you need to fly the device. That is, except a lot of practice. There are several steps you need to take before taking to the air correctly, but overall, it's a very smart drone that does all the heavy lifting on it's own.
Let me know what you think of the Phantom series in the comments. And if you own one yourself, tell us what you like/dislike about them. Thanks!